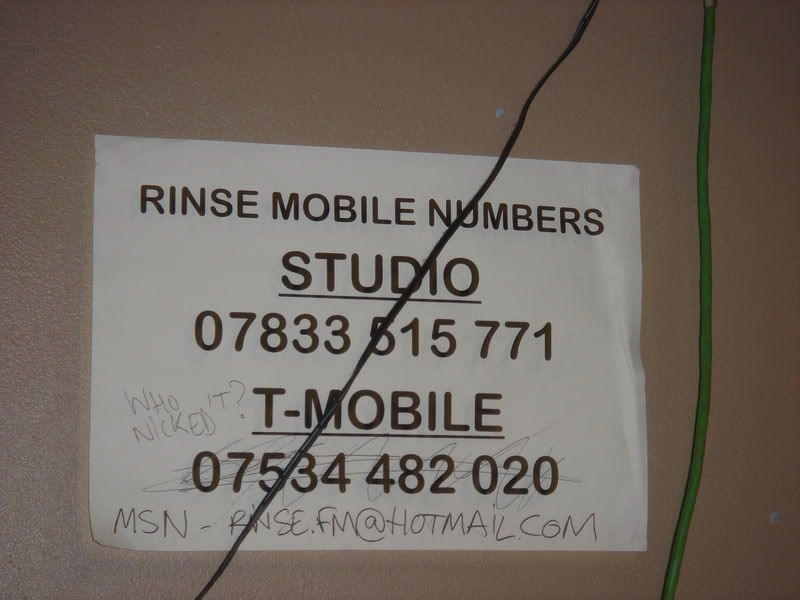 Big session. Shame we didn't clock the mic wasn't on for the whole show..
We did 1-3am graveyard shift.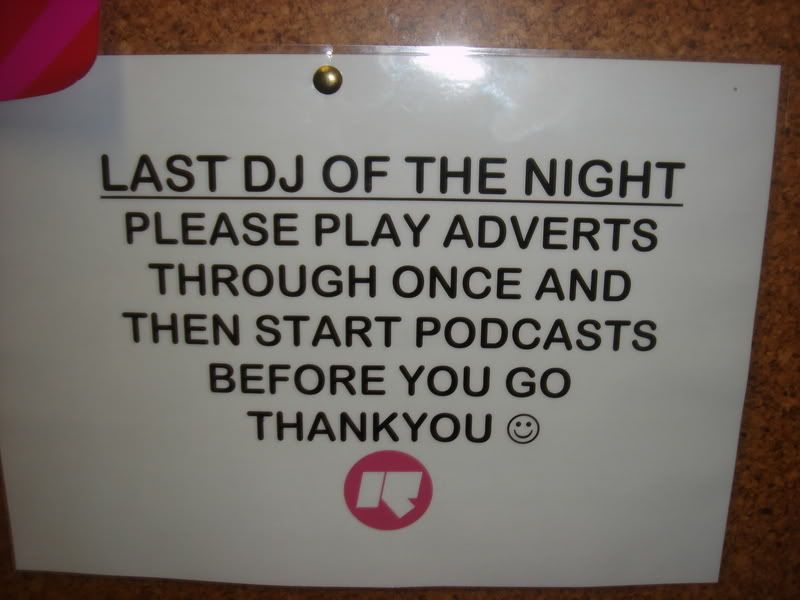 Here's the audio from the
Rinse FM Podcast Blog.
Brackles b2b Oneman - Rinse FM - 25th Feb 2009

RIGHT CLICK & 'SAVE LINK AS' TO DOWNLOAD
Tracklist:
2000F & JKamata - You Don't What Love Is (hyperdub)
Tempz - Next Hype (Brackles Vocal Mix) (No Hats No Hoods)
Kode 9 - Black Sun (hyperdub)
Shortstuff - A Rustling (Ramp Recordings)
Mickey Pearce - Innami (dubplate)
Lil Silva - Pulse Funky (White)
LD - Traumatic Times (hyperdub)
Skream - Hitch (Tempa)
Joe - Grimelight (Hessle)
Geiom - No More Tears (Berkane Sol)
Desto - Disappearing Reappearing Ink (Ramp Recordings)
Kode 9 vs LD - Bad (hyperdub)
Brackles & Shortstuff - Sutorīto Faitā
Kid Cudi - Day 'N' Nite (Brackles Remix) (Fool's Gold)
Skream - ?? (dubplate)
Zomby - Aquafresh (hyperdub)
Joker - Purple City (dubplate)
Martin Kemp - No Charisma (dubplate)
Roska - Feelin
Kode 9 - Too Far Gone (hyperdub)
N.B Funky - Riddim Box (It's Funky)
Donaeo - Party Hard
Darkstar - Aidy's Girl Is A Computer (hyperdub)
Loefah - Hurricane Kick (dubplate)
Wookie - VCF (S2S Recordings)
Sticky - Mission 5 (Social Circles)
Anthill Mob - You Should Have Known (Todd Edwards UK Dub) (Confetti)
D.E.A Project - Ghetto Child (D.E.A)
Amira - My Desire (VC Recordings)
Jodeci - Freak Me Up (Club Asylum Remix)
Ramsey & Fen - Favourite Part Of Me (El-B Ghost Mix)
DJ Deller - Romantic Call (White)
Vincent J Alvis Project - Body Killin' (White)
Wookie - Whats Goin On (S2S Recordings)
DJ Lewi - Hold Tight (Moist Recordings)
Blazing Squad - Standard Flow (DND Mix ft. Elephant Man) (Weighty Plates)
So Solid Crew - Woah (So Solid Beats)
Groove Chronicles - Black Puppet (DPR)
Sia - Judge Me (Siksense Remix) (Long Lost Brother)
D.E.A Project vs De-Front - Untitled (Booty Trap)
Wideboys - Stand and Deliver (Social Circles)
Rodney P - Trouble (MJ Cole Mix)
Nude - ??
Remi - Talk About It (Steve Gurley Vocal Mix) (White)
Agent X ft. Kele Le Roc - Skank (Heatseaker)
Oris Jay & Juiceman - Brand New Flava (Props)
El-B - Paice (El-Breaks)
Exemen - Saturn (Manchu)
Dem Lott - Dem Lott's Ere Now
Davinche - Leave Me Alone (Paperchase)
D.E.A Project - U Got What I Need (D.E.A)
D.E.A Project - A Touch of JD's (D.E.A)


Show is set out as a 2 tune swap b2b mix. Starting with Brackles on the first 2 tunes.



Don't forget, Catch Brackles down at FWD>> this sunday, and catch me down there the following sunday, with Benga vs Skream, Darkstar & Zinc!