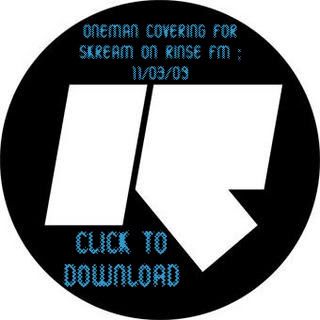 Covered for Skream on Rinse FM on Wednesday night.
Was a big show, started off around 130bpm and built it up to 140.
Managed to play a couple of bootlegs I did, and got to play a bunch of new stuff including 2 sick new tunes from FaltyDL, an IDM producer from New York who sent me a bunch of odd-garage sounding tunes that are coming out on his Planet Mu album later this year.
Loads of UK Garage aswell as the new bits, a nice selection of D.E.A classics in the mix there too.
Listen out for the vintage Crazy D tune including some BIG old bars.
Hosted by Asbo as STANDARD>>
tracklist:
Martin Kemp - No Charisma
Darkstar - Aidy's Girl Is A Computer
Cooly G - Dis Boy
FaltyDL - 2Step Sunday
Sia - Little Man (DJ Q Remix)
Kode 9 - Black Sun
FaltyDL - Human Meadow
DJ Oddz - Blade Runner
2000F & JKamata - You Don't Know What Love Is
DJ Oddz - Strung UP VIP
Tempz vs Oddz - Strung Up Hype (Oneman Mashup)
Youngstar - Pulse Xtra
JME - Baraka (Blue Portal Mortal Kombat Riddim)
Sticky - Golly Gosh
Blazing Squad - Standard Flow (DND Remix ft. Elephant Man)
Mala - Lean Forward
Joker - Digidesign
Menta - Sounds of the Future
Baby D - Fantasy (Trick Or Treat Dub)
Agent X -
Slew Dem - 16 Bar
Magnetic Man - The Cyberman
Digital Mystikz - Neverland
Kode 9 - Bad
Remi - Talk About It (Steve Gurley Vocal Mix)
D.E.A Project vs De-Front - Untitled
Opus III - Fine Day (El-B Remix)
DND - Pick Me Up (Ghost Mix)
DJ Deller - Romantic Call
Benga - Better
Digital Mystikz - Earth a Run Red
2nd Phaze - Nic;s Groove (Davinche Remix)
Geeneus - Parasite
Plasticman - The Lift
*BLAST FROM THE PAST*
Betty Boo & MC Crazy D - Live Caller
Artwork - Red
LD - Traumatic Times
Burial - Unite
D.E.A Project - Ghetto Child
Martyn - All I Have Is Memories
D.E.A Project - U Got What I Need
D.E.A Project - A Touch of JD's
Groove Chronicles - Stone Cold
D.E.A Project - Devil Woman
Al Browne - Buggin Me
Mala - Forgive
Mark One - Lost Gold
Shortstuff - A Rustling
Zomby vs Kid Cudi - Rumours & Nites
Out to David M on the recording!